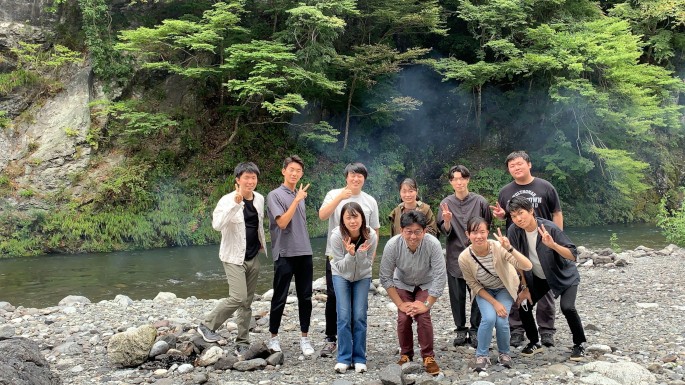 Welcome to
K

eio Univ.

F

ukagata

Lab

oratory!

Fukagata laboratory, Department of Mechanical Engineering, Keio University, is a relatively new laboratory, born in 2007.

Our research interests are numerical simulation and mathematical modeling of complex heat and fluid flow phenomena including turbulent flows and development of advanced control methods for such flow phenomena. The research area is being expanded toward establishment of design methodology for thermo-fluids systems by integrating control theories, optimization methods, machine learning, and large-scale flow simulation techniques.
News
2023-05-18
Miura (M2) made a presentation at Keio-Kasetsart Joint Workshop in Mechanical Engineering.
2023-05-10
Out now!
H. Omichi, H. Chida, T. Ishize, M. Matsuo, and K. Fukagata, Selected Researches in CFD36: "Improvement of particle image velocimetry using machine learning without DNS data," Nagare - J. Jpn. Soc. Fluid Mech. 42, 83-86 (2023) (in Japanese).
2023-05-10
Out now!
K. Fukagata, Preface: "Report on the 36th Computational Fluid Dynamics Symposium (CFD36)," Nagare - J. Jpn. Soc. Fluid Mech. 42, 50-51 (2023) (in Japanese).
2023-04-26
Out now!
K. Fukagata,

Review:

"Reduced order modeling of fluid flows using convolutional neural networks," J. Fluid Sci. Technol. 18, JFST0002 (2023).
2023-04-20
Nabae (Alumni) & Fukagata's paper received JSME Award (Paper).
2023-03-23
Omichi (B4) received Commendation for Academic Excellence from Keio University.
2023-03-16
Conference
Goto (B4), Iwasawa (B4), Omichi (B4), and Suzuki (B4) made presentations at 62nd JSME Kanto Student Union Conference (Online).
2023-03-09
Okochi (M2) and Sato (M2) made presentations at Joint Symposium of 38th UT-IIS TSFD Symposium / 29th Inter-University Workshop on Turbulence Control (Tokyo), and Sato received the Best Presentation Award.
2023-02-28
Out now!
M. Atzori, F. Mallor, R. Pozuelo, K. Fukagata, R. Vinuesa, and P. Schlatter, "A new perspective on skin-friction contributions in adverse-pressure-gradient turbulent boundary layers," Int. J. Heat Fluid Flow 101, 109117 (2023).
2023-02-07
Award
Fukagata was awarded the JSME Fellow.
Visitors: 16 today, 215156 since 2009-03-31